New Patients at Crimson Chiropractic Center
Our team looks forward to welcoming you to Crimson Chiropractic Center! After booking your appointment, we will send you a link to complete your new patient paperwork online before your first visit. This will save you time in the office.
If you have any questions, our staff will be happy to help.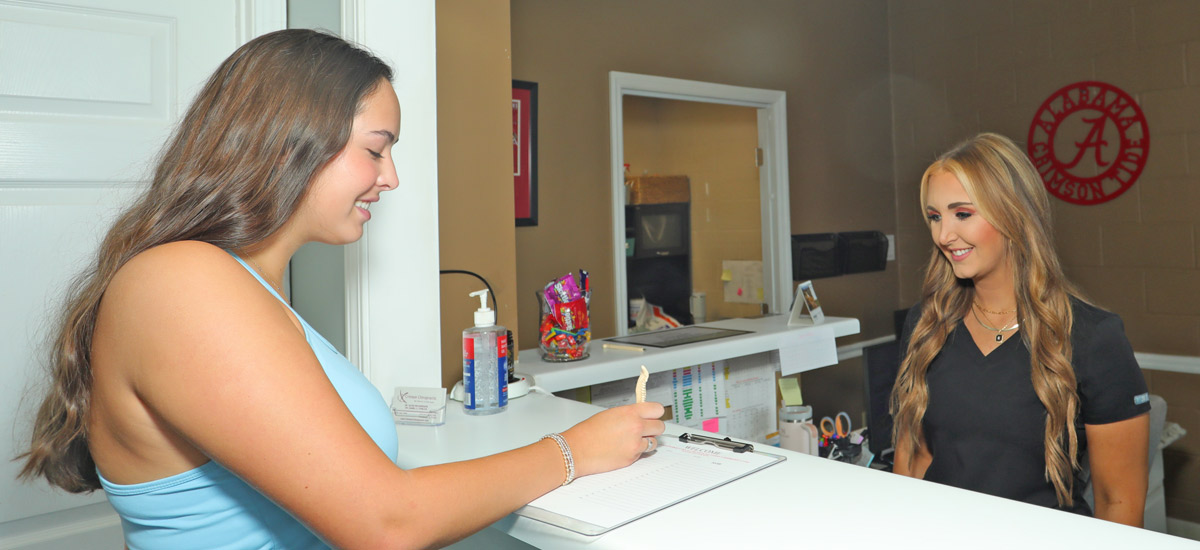 When you arrive, you'll be warmly greeted by our front desk staff. Then you'll meet with your chiropractor, who will talk about your health history, what's prompted you to seek our care, and your healthcare goals.
Your doctor will do a thorough examination, including physical assessments and digital X-rays. They'll give you an idea of what's causing your symptoms and provide some therapies and a light adjustment in the area of your chief complaint to help relieve your symptoms.
If additional imaging is required, in some cases, you may be referred out for additional testing including MRI, CT scan or specialty medical consultation when appropriate. 
This visit takes about one hour.
Before you return, your chiropractor will study your X-rays and complete a thorough biomechanical analysis in order to create a customized care plan to help you reach your goals. At your second visit, they will explain in detail what's causing your pain or other symptoms, how they think our care can help, how long it will take, and how much it will cost.
They'll take the time to answer any of your questions and make sure you feel comfortable with our approach.
If you're ready to begin, we'll get started on your care plan at this visit. Plan to be with us for about 30-45 minutes for this appointment.
Financials
We are a Participating Chiropractic Provider for BlueCross/BlueShield and accept other insurance plans. We'll happily verify your coverage and let you know your benefits and copay.
HSAs and FSAs are accepted.
Embark on Your Journey to Maximum Health
Say no to so-so health and hello to optimal wellness. Contact us today to schedule your first appointment, or use our convenient online booking feature.
CONTACT US »

New Patients at Crimson Chiropractic Center | (205) 345-2009