Massage Therapy In Tuscaloosa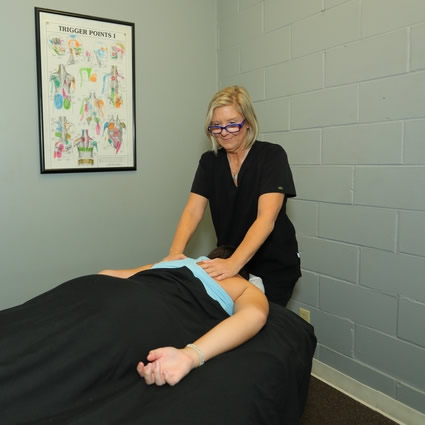 Experience the Benefits of This Form of Bodywork
There are many benefits associated with this type of soft tissue work, including:
Reduces stress: Research has confirmed that long-term effects of stress can diminish physical and emotional well-being. Soft tissue therapies may help relieve stress and its associated conditions, such as tension headaches.
Increases immune function: Studies show that neuromuscular therapies may help boost immune system strength by increasing the activity level of the body's natural "killer T cells," which fight off viruses.
Boosts mental health and wellness: Besides lowering stress levels, research suggests that therapeutic soft tissue modalities may help reduce anxiety and depression.
Manages pain: Pain can negatively affect a person's quality of life and impede recovery from illness or injury. Recent findings highlight the role of soft tissue work in managing pain.
Improves physical fitness: Reducing muscle tension may help elite and recreational athletes alike improve performance and prevent injuries.
A Powerful Complement to Chiropractic Care
Therapeutic massage is one of the best complements to chiropractic care. Muscles are attached to your bones and joints, so helping them relax and stretch allows your chiropractic adjustments to be more effective and last longer. When your skeletal system is properly aligned, the free flow of nerve impulses and blood and lymph fluids circulation are supported.
Here are some benefits of massage with chiropractic care:
Helps prepare the body, allowing for easier adjustments
Increases the effectiveness of adjustments and other therapies
Relieves muscle tension and pain
Helps prevent future pain and injuries
Promotes overall relaxation so the body is more receptive to the adjustments
Our Techniques
Our licensed therapists provide a variety of techniques, including:
Burn scar therapy
Cupping
Hot stone
Prenatal
Relaxation
Sports
Swedish
Thai
Deep tissue
Ask Cindy about other techniques.
Because we highly recommend massage therapy and most insurances do not cover it, we offer our current chiropractic patients a deeply discounted price of just $60 for one hour.
All of our therapists are licensed and graduates of nationally certified massage therapy schools.
Tame Tension and Feel Your Best
You deserve to decompress and feel fantastic with the help of a licensed massage therapist. Contact us today to book an appointment!
CONTACT US »

Massage Therapy Tuscaloosa AL | (205) 345-2009